For my birthday last year, Jennifer (my wife) bought me a lovely edition of the 1954 volume called "Lives of Saints." One of my favourite accounts is of St.Perpetua, a twenty-two-year-old who was martyred for her faith in the year 203. Perpetua was married and had an infant; she was one of five catechumens (those at the time who were being prepared to be received into the Church but had not yet been baptized) who were arrested for their faith and imprisoned.
During the subsequent trial, Perpetua's father appeared with her child in his arms. He pleaded for Perpetua to deny the faith, imploring her to "have pity on the child." Nonetheless, when the judge asked her "Are you a Christian?" Perpetua said "Yes, I am." When the group was sentenced and led into the amphitheatre where they would eventually suffer death by wild animals and gladiators, Perpetua was singing.
In the last two weeks, the lectionary has featured several passages which resonate with our current sermon series (Fixed On Jesus: how to hold the centre in an age of diversity). In one particular passage, Jesus clarifies the practical (and radical) implications of having him as the centre of our lives:
Luke 14:26-27: "Whoever comes to me and does not hate father and mother, wife and children, brothers and sisters, yes even life itself, cannot be my disciple. Whoever does not carry the cross and follow me cannot be my disciple." Later, in verse 33: "None of you can become my disciple if you do not give up all your possessions."
These days – without the threat of wild animals and gladiators, and given the prevalence of much cushy Christian pseudo-psychology that masquerades as authentic spirituality – many of us come to (or stay with) Jesus believing that our most cherished relationships, life, and possessions can remain happily uninterrogated. It's especially tempting to minimize or altogether ignore the part about carrying the cross; to forget that the way of Christ is the via Dolorosa.
In the passage above, Jesus is straightforward and unapologetic: it's impossible to follow him without cost, and the cost is everything. I love the great Catholic writer Flannery O'Connor's take on this reality:

"What people don't realize is how much religion costs. They think faith is a big electric blanket, when of course it is the cross. It is much harder to believe than not to believe."
The "hate" of family and life itself that Jesus speaks of is comparative. The idea is that we'd love him so passionately that our attachment to everyone and everything (including all we own and all our cash) would, by comparison, seem like hate. Paul's words in Philippians 3:8-9 convey the beauty and power of this movement: "What is more, I consider everything a loss because of the surpassing worth of knowing Christ Jesus my Lord, for whose sake I have lost all things. I consider them garbage, that I may gain Christ and be found in him […]."
The real heart of Jesus' words in Luke is an invitation for us to experience, over and above anything and everything, his "surpassing worth." Experiencing him this way is the only thing that evokes the kind of love for and devotion that obscures everything else. If we shudder at the cost of being without the dearest people, things, or whatever-it-may-be in our lives, it's likely because we have not yet fully experienced the immense, satisfying, and incomparable joy of Jesus. Gaining and being found in him is having everything, and more.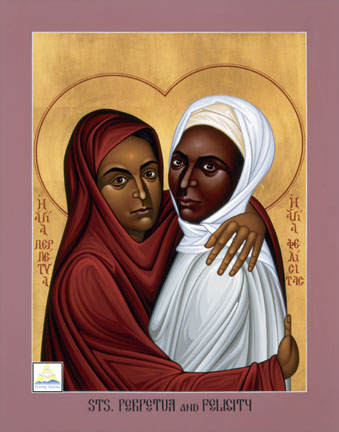 It's entirely possible to accept Jesus' invitation and centre our lives on him in this way. Perpetua's family, possessions, and very life – significant though they were I'm sure – were negligible compared to the pricelessness of having Christ. I imagine that's why, even as she "carried the cross" and was processed to her death, she was singing.
May it be that we too so thoroughly experience the unrivalled love, life, grace, and abundance found in the person of Jesus alone that following him – regardless of any and all cost – remains a perpetual song of joy. After all, if we have everything, there's nothing else we need.