Our new murals are one of the sites for Nuit Blanche this year and our parking lot will be the rendezvous point for the Bike Jam.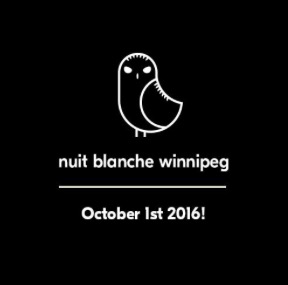 Sat, Oct 1 from 6pm – 9:30 ish. Our parking lot will be transformed into a pop-up party that will include:
Rally point for the annual Rainbow Trout Bike Jam (last year's bike jam had about 600 bicycles), and for anyone else participating in the Nuit Blanche activities.
Large pop-up stage with music (sponsored by Manitoba Music with 3 amazing acts),
Participatory art project,
Bike tune-ups,
Break dance competition,
Light art installations and a
DJ booth.
It's gonna be a party! We're expecting in upwards of 1000 people and bicycles in our parking lot.
The whole event is a family friendly and dry. It will be loud and well lit (there's a giant disco ball being installed above the DJ booth). Access to the building will be limited to the Flatlanders Studio (porta potties will be provided outside).
Our very own Flatlanders Studio will be open with the new exhibit called Art Catalogue. Blair is working hard at getting this show up and running.  Make sure you come out and see the new LED light system that has just been installed – not to mention some great art!
This seems like a lot – and it is! For us it is all a great opportunity to "work for the good of the city in which I have sent you." (Jeremiah 29)