Flatlanders Inn
Every valley lifted up, every mountain made low.
Flatlanders Inn is a diverse and intentional community that seeks to cultivate a positive, nurturing, and relational place to live for people who want to get their feet back under them.
Welcome, once again, to the life and stories of Flatlanders Inn. The fall and winter here have been characterized by growth and goodness. We are becoming more and more established as a positive, safe, and transformative housing situation. We are learning how to hold conflict and the tensions of hard realities with more wisdom and attention. We are celebrating many things in the lives of our residents: one of us started college, another hosted and performed in a fabulous Christmas concert, another re-learned how to sew, another committing to greater wellness through morning yoga, and another starting a job with a social enterprise! We are dreaming about creative sustainability as communal housing, and how to invest in our neighbourhood with more intentionality and a deeper, sweeter love.
Gathering as a community is a continual rhythm, with new friends often in our midst. One of whom is Julie, our administrator who also acts as "landlord". We received a grant from the Winnipeg Grant Foundation to create this support position. Having Julie around to take care of rent collection, administration, and meeting with potential new members enables us to more deeply care for and invest in relationship with our transitional friends. New members keep moving in and we are delighted to welcome Arthur, who moved in late 2013.
Flats Family: Wayrandina, Lanzon, Ivan, Teena, and Coyllur. They have been living here since spring 2013.
Flats Feasty Feast — winter 2014. We filled our home with neighbours, friends old and new, and feasted together!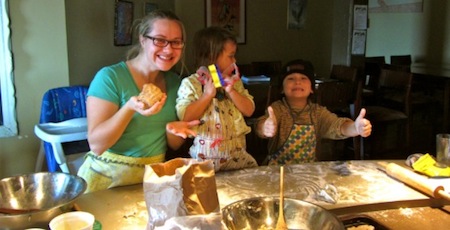 A sweet treat from neat Flats folk.
Member Profile
Meet Teena and Ivan. They have been living here for 8 months with their wild and wonderful children: Lanzon (7), Wayrandina (4), and Coyllur (1).
What has been good about life at Flatlanders?
Lanzon: There's a big space to play, enough room to do our art–and crafts! (Wayrandina chimes in). Always running water. And, oh! community supper! I love community supper!
Teena: It's nice connecting with people, being involved in the community. Everybody brings something to it–resources and skills.
Wayrandina: Love.
Ivan: Lots of space. I'm used to living in community. It's a very good help for us.
What have been some of the challenges of living in community?
Teena: (laughs) Keeping quiet. And keeping things tidy.
What has it been like to be a family in this kind of space and living situation? Does it work?
Teena: Oh for sure! There's the old adage, "It takes a community to raise a child." We're not isolated, there's always someone around. There's such a sense of family–people will ask my kids to do a puzzle or read books. There's friendship and love and extended parenting.
Any thoughts/suggestions you'd have for people considering communal living?
Teena: Now is the time to do it. There needs to be more Flatlanders.
Please Pray:
– for our new and incoming transitional members–that their sense of safety and acceptance would grow, as well as their ability to hold hope for themselves
– for our Leadership Team as they continue to vision for the community and explore exciting opportunities in fund development through social enterprise
– for renewed love, wisdom, and creativity in the midst of the challenges of shared space, intense life circumstances, and the daily rhythms of life together
Blankets and Being Involved…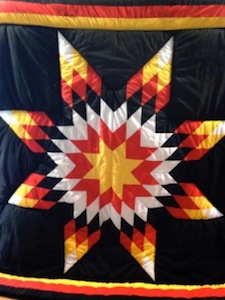 This stunning, queen-size, handmade blanket made by Northern Star Workers Co-op was raffled off and won by Mary F. It was donated by Local Investment Towards Employment (LITE) in support of Flatlanders, with all the proceeds going towards our work. Through this raffle we raised well over $500!
As Flatlanders continues to evolve, we are oh-so grateful for all of our supporters who are enabling us towards some of the hopes and visions we hold for this place. Our mandate is first and foremost, communal housing, but we are also exploring and learning about generating supplemental revenue. As our friends and partners, we want to invite you into this work and into deeper partnership in the life at Flatlanders. Consider coming out to community dinners on Tuesdays or Thursdays. Consider purchasing Flatlanders organic, fair, and flavour-full roasted coffee beans. Pray for us. Think and dream with us about financial sustainability. Ask us questions. Tell others about us.
And know that we are thinking of and praying for you, dear friends. Thank you for your partnership!
If you'd like to subscribe to our newsletter, send a message to admin(at)flatlandersinn(dot)org.