We are coming up to our first Outer Circle gathering of the 2016 cycle (Jan 16, 5:30 – 8pm).  If you were part of the Outer Circle process in 2015, now is the time to decide if you are going to be in for another year or not.  If you are in again, please make sure you confirm with your Triad and contact the office to let us know.  If you weren't part of it in 2015, perhaps this is the year for you!  Anyone can join, you just have to commit to the process.  You can read more about it here, or pick up an Outer Circle booklet at the Info Table.
We've collected some stories of the significance of the Outer Circle in a few people's lives this past year.  You can watch them here… they're inspiring!
To be part of the Outer Circle Process for 2016 you need to:
Go though the 3-P steps.
Attempt to find a Triad.
Sign up with the office.
You can find out more about each of these steps here.
Changes for 2016:
As we've evaluated and received feedback, we've made a few changes to the process for 2016.  In short, they are:
Joining: You can join any time throughout the year (if this is your case, you still need to do the process and you still need to sign up through the office).
Open Table: At the first gathering of the year, we'll have an open table at which anyone who does not yet have a Triad can meet together. You can still share the results of your "3-P steps", but perhaps you'll meet someone there who you can form a Triad with. We will keep the Open Table available for as many OC Gatherings as necessary.
WCV Membership: Our formal membership at WCV is "everyone who is part of the Outer Circle or an equivalent".  This list is updated annually.  This is not new, but we've more clearly defined what "an equivalent" of the Outer Circle process is.  You can read more about this here.
Stick to it: The more intentional you are about going through the process, and the more you get together with your Triad, the more you will get out of the year.
Blessings as you grow to become more like Jesus, are filled with the Spirit and rest in the Father's love for you.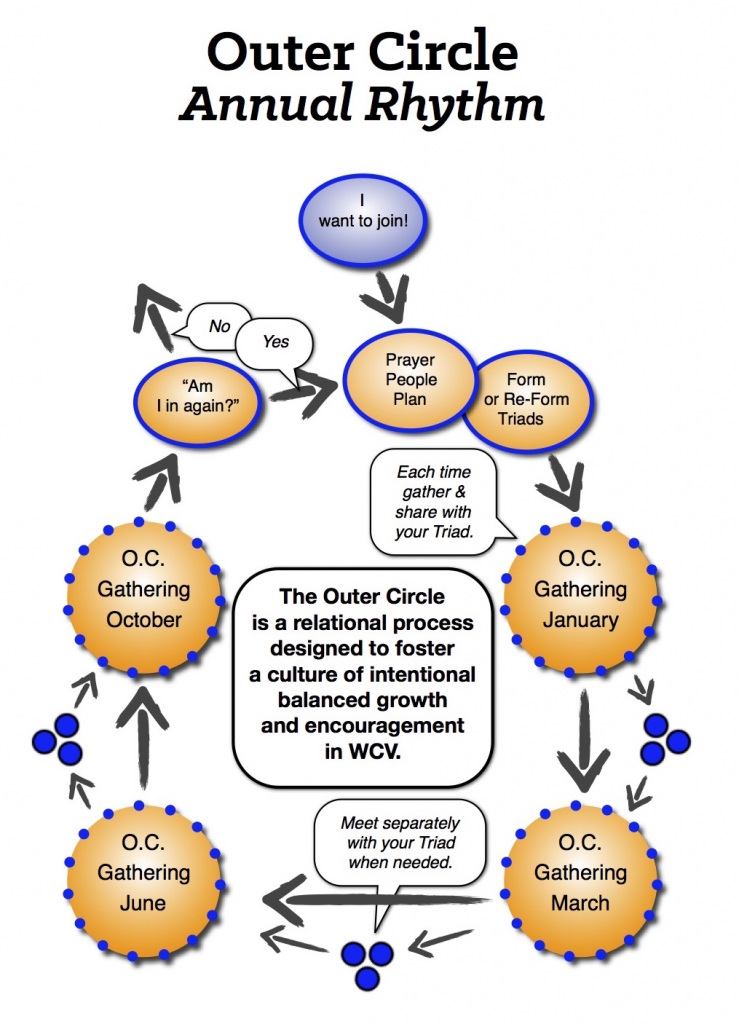 More Info & Stories here.