The rebuilding of the KTM VINEYARD HUB is well underway. The old apartment is gone. Church meetings are still held in the old sanctuary. Access is difficult because the building materials can only be delivered by truck on Saturday / Sundays, which means the people need to single file along a narrow path to the sanctuary. There is no open space now. But the excitement of the new facility transcends all the inconvenience.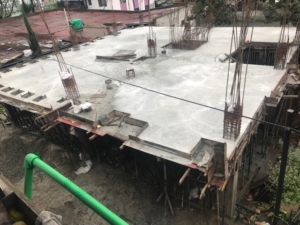 We have completed the second level floor slab called First Floor. The building is 45'x45′ with 12 column pillars and floor beams holding the structure. It is a solid building with only the best quality materials. The workmanship is top class. The main sewage pipe is buried, the elevator lift cavity and the stairwell area is in place. This has all been accomplished in 8 weeks. We have used excavation equipment and a cement lift to speed things up. The contractor is doing a great job and is easy to work with.
The HRV leadership team of Noel Isaacs, Ramesh Bisht and Raju Ragar have everything in hand with meticulous reporting and logistics management. Careful oversight is necessary to ensure no quality compromise or materials slippage.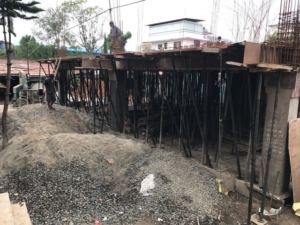 The plan is to complete the Hotel's 4 1/2 floors (we've added a half floor increasing our rooms to 28) by Dec 31. This will include the building exterior envelope and one floor left open for the church services while the new sanctuary is built. The old church and remaining buildings will then be demolished. The new church will be completed late 2018. Then the hotel will be completed and open in late 2019.
The WCV and HRV directors together will form the financial management team for the future Boutique Hotel Enterprise operations. We anticipate that finances from this will allow HRV Churches to move towards self-sustainability. We see this as a provision from God for the increasing needs of HRV.
THINGS TO PRAY FOR
Safety and speedy construction logistics to continue
Costs of construction to stay within our cost estimates.
Provision of the remaining $500,000 CDN required to complete the project.
This is a mighty endeavour for the Kingdom of God to advance in the Himalayas. We know that God is leading us. The 20-year history of God's presence is not lost on us and we continue call out to Him to lead.
The Leadership team of the KTM REBUILD PROJECT
>> See the KTM rebuild floor plans . . .