Our parking lot is becoming a movie set for one week in September.  Netflix will be filming a scene in a "post tsunami disaster in Seattle" movie called "How It Ends".  The props will include numerous smashed vehicles which will be piled up against the building by the disaster (the cars won't actually touch the building).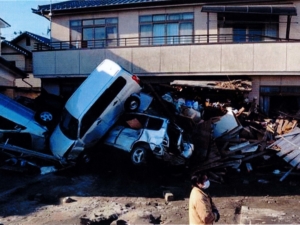 We want to you know about this so you are not alarmed!  There will be 24/7 security outside and a fence to secure the set.  Access to the building will still be at the South doors during normal office hours.
The parking will be compromised for one Sunday, Sept 17.  Access will still be available at the South and West doors via established corridors.  However, a portion of the parking lot will be occupied by the set. However the city of Winnipeg has allowed parking on either side of the street of Sutherland Avenue between Main Street and Derby Street. That means for us that latecomers will have to walk slightly further! So make sure you arrive at 10 a.m.!
This is a major rental for WCV that will contribute significantly to our income budget.  We hope any inconvenience you experience will be minimal.  Please direct any questions or concerns to John (228-0042) or Jeff (295-2349).
While there may be a few Hollywood stars on set, Jesus is still our True North!