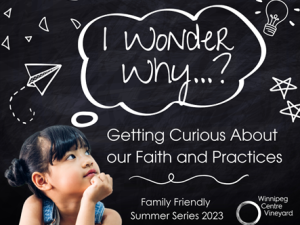 We are excited to announce our new summer series! Building off the success of our "Investigator" series last summer, we are once again preparing for 10 weeks of inter-generational, family-friendly gatherings!
This year our sermon series is called:
 "I Wonder Why…" Getting Curious about Our Faith and Practices." 
Why do we give? Why do we pray? Why do we go to church? 
Our hope is that over the course of the summer, we will be able to engage with questions like these in ways that are both accessible and engaging for all ages. We want to enter into these questions with a posture of curiosity and wonder. What can we discover as we explore each topic through scripture, story, activities, and experience? What might God want to show us and invite us into? 
Our summer gatherings will run from 10:00 am – 11:15 am (note the shortened time), and we have the privilege to learn from some amazing members of our community. 
We hope you can join us!
Week 1 – July 2 – I Wonder Why WeTake Communion? (Mauritz)
Week 2 – July 9 – I Wonder Why We Pray? (Lani, Violet and Kelly)
Week 3 – July 16 – I Wonder Why We Go to Church? (Brett)
      ——July 23 – Bird's Hill Park (Baptism and Picnic) ——–
Week 4 – July 30 – I Wonder Why We Do Spiritual Practices? (Derek and Ashley)
Week 5 – Aug. 6 – I Wonder Why We Believe the Bible is True? (Krista)
Week 6 – Aug. 13 – I Wonder Why We Are Invited to Play and Create? (Dave Johns)
Week 7 – Aug. 20 –  I Wonder Why We Love our Neighbour and the Stranger? (John Mark)
Week 8- Aug. 27 – I Wonder Why We Give? (Mauritz)
Week 9 – Sept. 3 –I Wonder Why We Serve? (Dustin)
Week 10 – Sept. 10 – Wrap Up the Series – I Wonder Why We Wonder? (Lani)