Drawing near to God:
The bible says that it is impossible to draw near to God without drawing near to others.  When asked what commandment was the greatest, Jesus replied: "Love the Lord your God with all your heart and with all your soul and with all your mind.' This is the first and greatest commandment. And the second is like it: 'Love your neighbour as yourself." (Mt 22).  The linking word between the two commandments is homois which is translated "is like it" and means "of the same substance".  It's where we get the word homo from.  The commands are not the same, but they're pretty darn close.  If you're not doing one, you won't be doing the other.  Today, pray for opportunities to love God, through loving your neighbour.
Drawing near to others: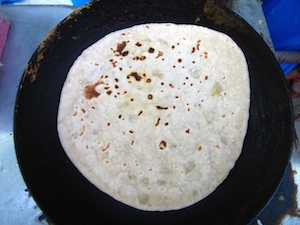 As we (the School of Justice) were walking in the street (in Kathmandu), a man had a little food cart where he was selling different kinds of chapatis (bread) with eggs and potato.  This is called Aloo Paratha and is a popular breakfast dish or snack in Nepal and India.  It's unleavened bread stuffed with a spiced mixture of potato, and all kinds of people buy it from street vendors.  This version of it costs around 30 rupees (CAD $0.34).
Pray for the many who are poor in Nepal and who either don't have access to food or don't have access to nutritional, healthy food.