Drawing near to God: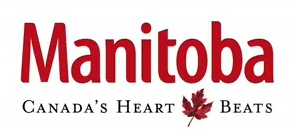 Manitoba's new tourism slogan is "Canada's Heart… Beats."  It's a good one.  It makes me think of the drum and how it echoes God's heartbeat.  His heart beats too, and the reverberations go far beyond the borders of our Province to reach every nook and cranny of creation.  It's not an irregular rhythm, nor is it random.  It is a singular thumping for the restoration of relationship between himself and us!  Can you hear it?  Can you feel it?  His heart beating for you.  Who else is it beating for?  Who in your life is God drawing your attention to now in this moment?  Pray that they too would draw near their Creator.
Drawing near to others: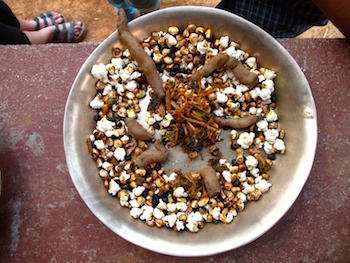 When we (the School of Justice) went on outreach to Champi (a small village in the mountains just outside of Kathmandu), a woman who's the mother of the first believer in the village served this to us.  It's popcorn, black soy beans, dried mustard pickle, and sweet potato.  Noel said it would cost around 150 rupees (CAD $1.70) for the entire plate, which several of us ate from.
Pray for the believers in Champi and the Vineyard church there – that they'd continue to grow in Christ and that they'd see God's kingdom come to their neighbours in the village through healing, deliverance, and faith in Jesus.