Drawing near to God:
Today is the Friday that's called Good.  The day Jesus was crucified.  Everyone who confesses Jesus as Lord must also "take up their cross" and follow him (Mt 16).  We are to follow his lead and embrace the path he travelled.  Jesus was crucified and went on to defeat death.  Thankfully we don't have to defeat death (that's already done) but we are still to follow him on this path.  What does this mean for you?  Where is Jesus leading you?  Pray that he gives you the strength to follow and remain faithful as you follow his lead.
You can contemplate this on the Walk of the Cross today from 3pm – 5pm.  Wear your walking shoes.
Drawing near to others: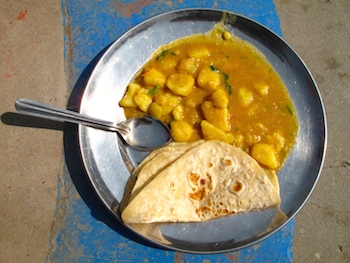 This is what we (the School of Justice) ate for breakfast today. It's chapatis (bread) with a potato dish. The entire plate of food costs 150 – 200 rupees (CAD $1.70 – $2.26) and is considered an upper class meal because it was cooked with fresh ingredients and clean water.  Noel told me (Suhail) that it's a "quality breakfast."  Those who are poor may eat this dish but it will not be with the same ingredients or the same level of freshness, and therefore not be of the same quality.
Pray for the leadership of the Himalayan Region Vineyard churches, that God would provide for all their needs as they trust Him and as many have had to sacrifice a great deal to pursue God's call on their lives.