Drawing near to God:
Today is the last day of our fast – tomorrow we will celebrate the resurrection of Jesus!  But for today, reflect on what God has whispered to you this past week.  What has he done in you?  Where has he lead you?  What has he given you?  What has he said?
Drawing near to others: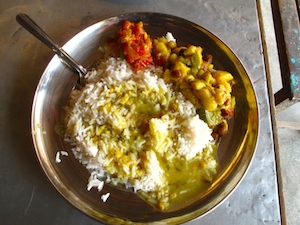 This is what we (the School of Justice) ate for lunch on our first day here. It's rice, dahl (lentil soup), a potato/vegetable dish, and an onion/chili pickle.  The entire plate of food costs 200 rupees ($2.26) and is considered a typical middle class meal here.  It's a vegetarian meal; if it had chicken or eggs (for around an extra 100 rupees) it would be considered an upper class meal.
Today, let's calculate what we saved on our grocery bills this week by eating less and simpler.  Bring in the money you saved and give it to the church (designate it "Nepal Fast") and we will give it to our sister churches in the Himalayan Region.  We can tighten our belts, so they don't have to tighten theirs.  We can eat a little less and more simply, so that the hungry there can be fed.  This is the kind of fast Isaiah 58 talks about.  This is the kind of fasting that get's God's attention!
Blessings on you as you give!  And may God hear your every prayer and come quickly to answer you (that's a promise from Isaiah 58!).