This is the second installment in a four-part series on the Vineyard School of Justice trip to the Himalayan Region Vineyard Churches in Nepal. Read Part One here.
---
CHHAMPI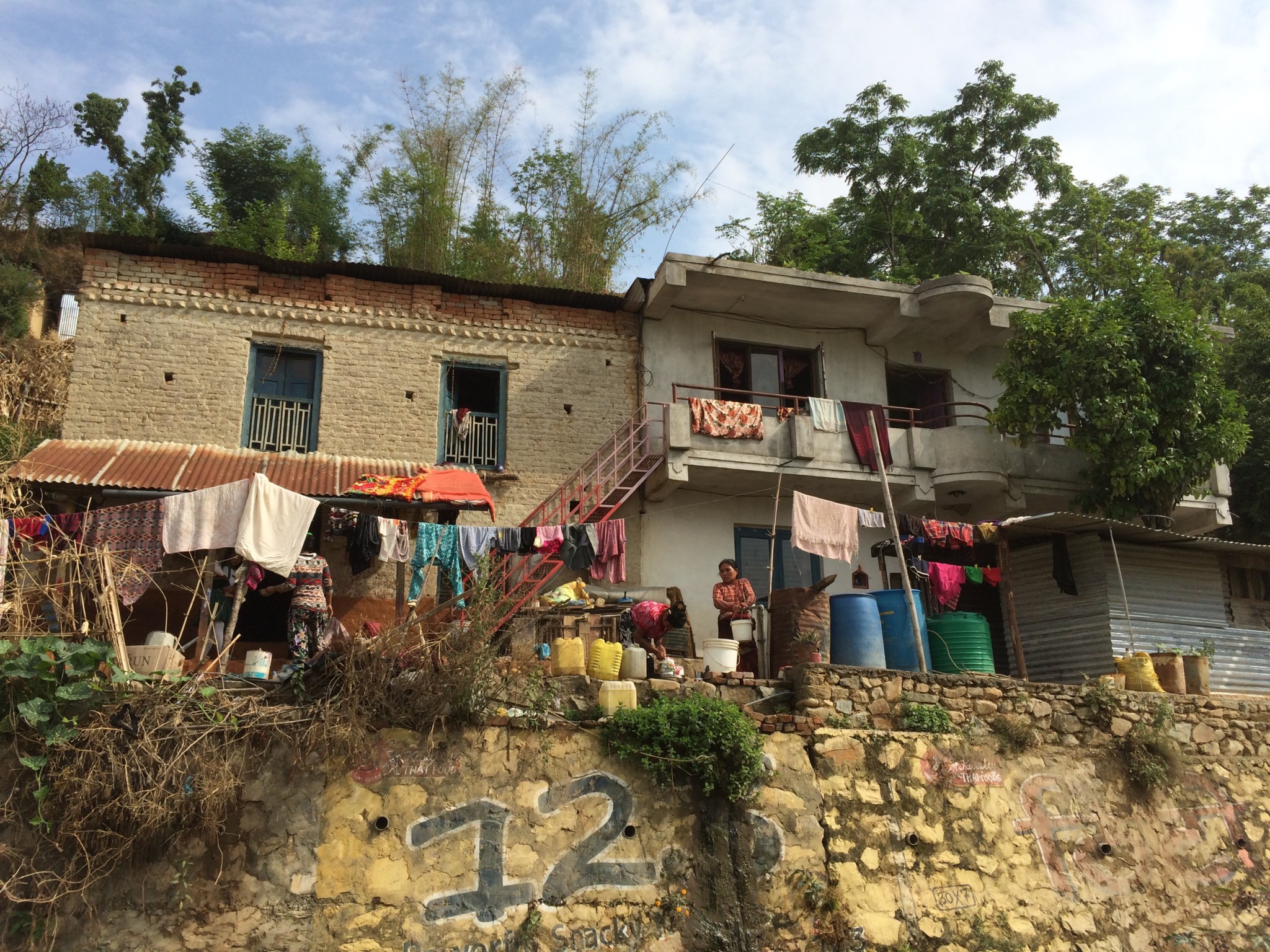 Chhampi is another village on the outskirts of Kathmandu, within an hour's drive of the city. We visited the village twice – once for a two-day stay and another time just for the day.
House Visits
Shortly after our first visit, we hopped into our trusty vehicle and visited a few Vineyard people's homes in the afternoon. Two years ago, we met a lady named Thuli Amma; she's since become a leader in the Vineyard. Her house was completely destroyed by the earthquake. Her new home is beside her old one, and we drank tea together and listened to her tell her story of coming to believe in Jesus. After praying for her, we went to visit David Tamang, who was the first believer in the village and whose home used to serve as the meeting place for the Vineyard. The next day we visited Maila Dai and his wife in their home. We had a good time visiting and praying for people.
Accommodations and Service
Pastor Uddav and Puja are the leaders of Chhampi Vineyard. Their home was also completely destroyed by the earthquake. A Hindu family gave them and many others shelter – 40 people lived together in close quarters as they were waiting for their new homes to be built. Pastor Uddav says this was a blessing as it enabled him to really get to know the people of his village. Now, Pastor Uddav, Puja, and their baby girl Ulani, live in a tin structure that shares a wall with the Chhampi Vineyard. I stayed with them and Erin, Natalie, and Laura slept in the Chhampi Vineyard building.
On our first evening in Chhampi, we had a great time worshipping together. There are several ladies who love to dance during worship and inevitably they pulled a few of us into worship. At one point, there were several of us dancing together before the Lord, and it was absolutely delightful. The four of us from the School of Justice shared on loving God and loving your neighbour. Once again, ministry time was remarkable, with a sweet sense of the Spirit touching and filling people with the love of God.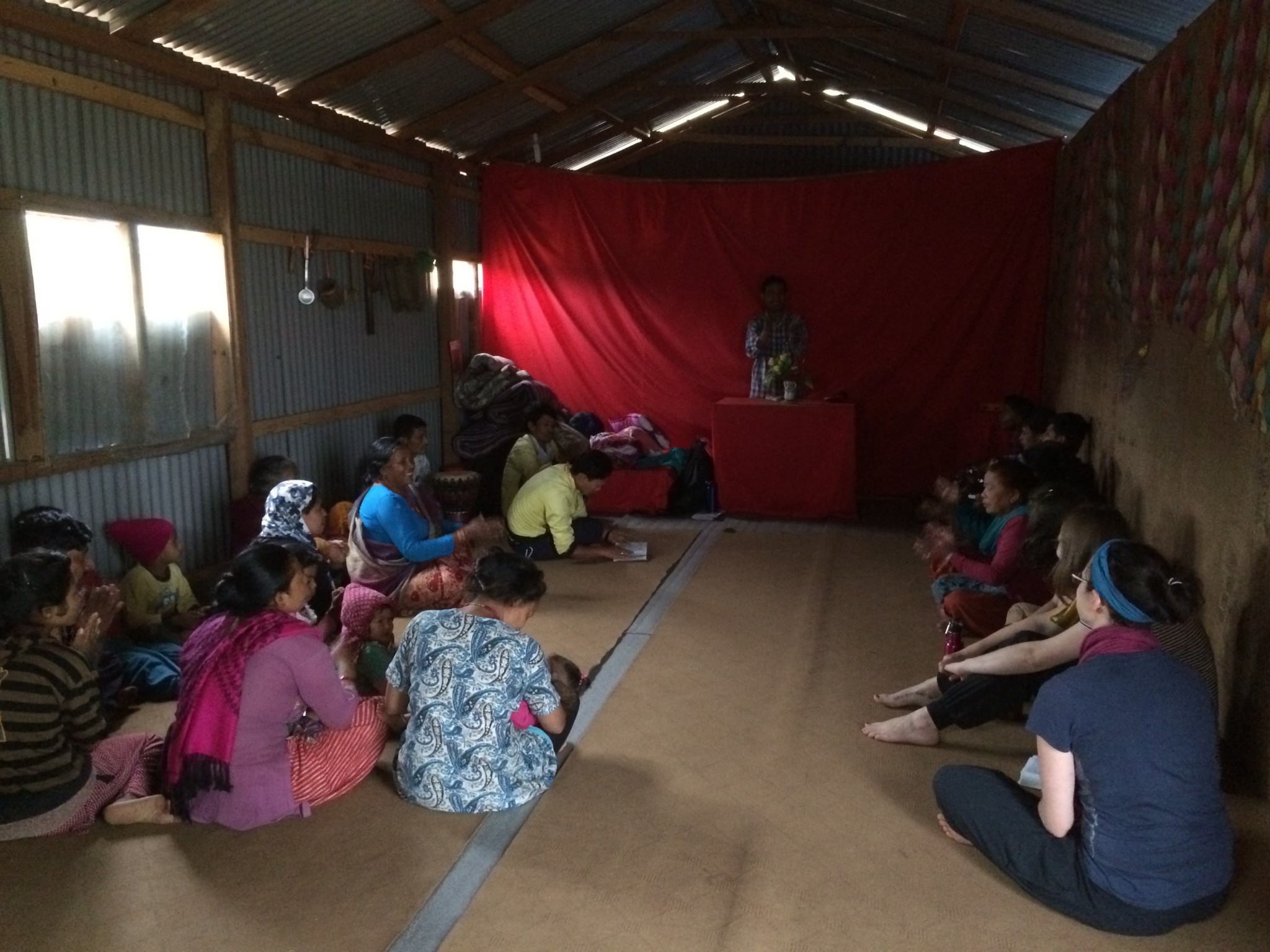 Afterwards, several of us went to the shop at the junction of the village to enjoy some tea with truly fresh milk. It was heavenly! We then went back to Pastor Uddav and Puja's home for dinner and, eventually, bedtime.
Lugandol
The next morning, after a great breakfast with Pastor Uddav and Puja, a group of people from Chhampi Vineyard gathered for prayer before outreach to a nearby village called Lugandol. Lugandol is about a thirty minute walk from Chhampi and, as of now, currently has no believers – it's an entirely Hindu village. The Vineyard has been reaching out with food hampers, relationship, and prayer and we were excited to participate.
We saw wonderful things in Lugandol. After handing out food hampers the first time we visited, we met an elderly lady whose knees had been troublesome for quite some time. We prayed for her and when we asked her to try walking, she did a little jig and said that the pain was gone – she was completely healed.
We also heard that there was a man who was paralyzed on one side of his body, and were eager to pray for him. People told us not to waste our time as they believed he was going to die. His wife was fatigued from having to take care of him. When we saw him, he looked like a ghost of a person – totally weak and lifeless. Apparently he had not moved from his house in 30 days. As we greeted him, he had to lift one of his hands with the other to greet us back. We prayed for him and after the first round of prayer, asked how he was feeling. He was responding and talking to us, and we came to find out that since his paralysis he hadn't been able to hear. Yet now, somehow, Jesus had opened his ears and he was hearing and talking!
This of course gave us more faith to pray that he'd be able to walk. We prayed for him again and afterwards, asked if we could help him up. He agreed and as we helped him, his legs were strong enough to walk to the other side of his home! After this episode, and before we visited the man a second time a week or so later, Pastor Uddav told us that the man was walking around the village. When we finally saw him for the second time, he was lying down in his home. Entirely on his own strength, he sat up, greeted us (this time with both hands functioning) and then proceeded to pick up the mat he was sitting on, walk outside with it, and sit down and visit with us. It was incredible to see him so filled with life. We saw Jesus heal a deaf, paralyzed man!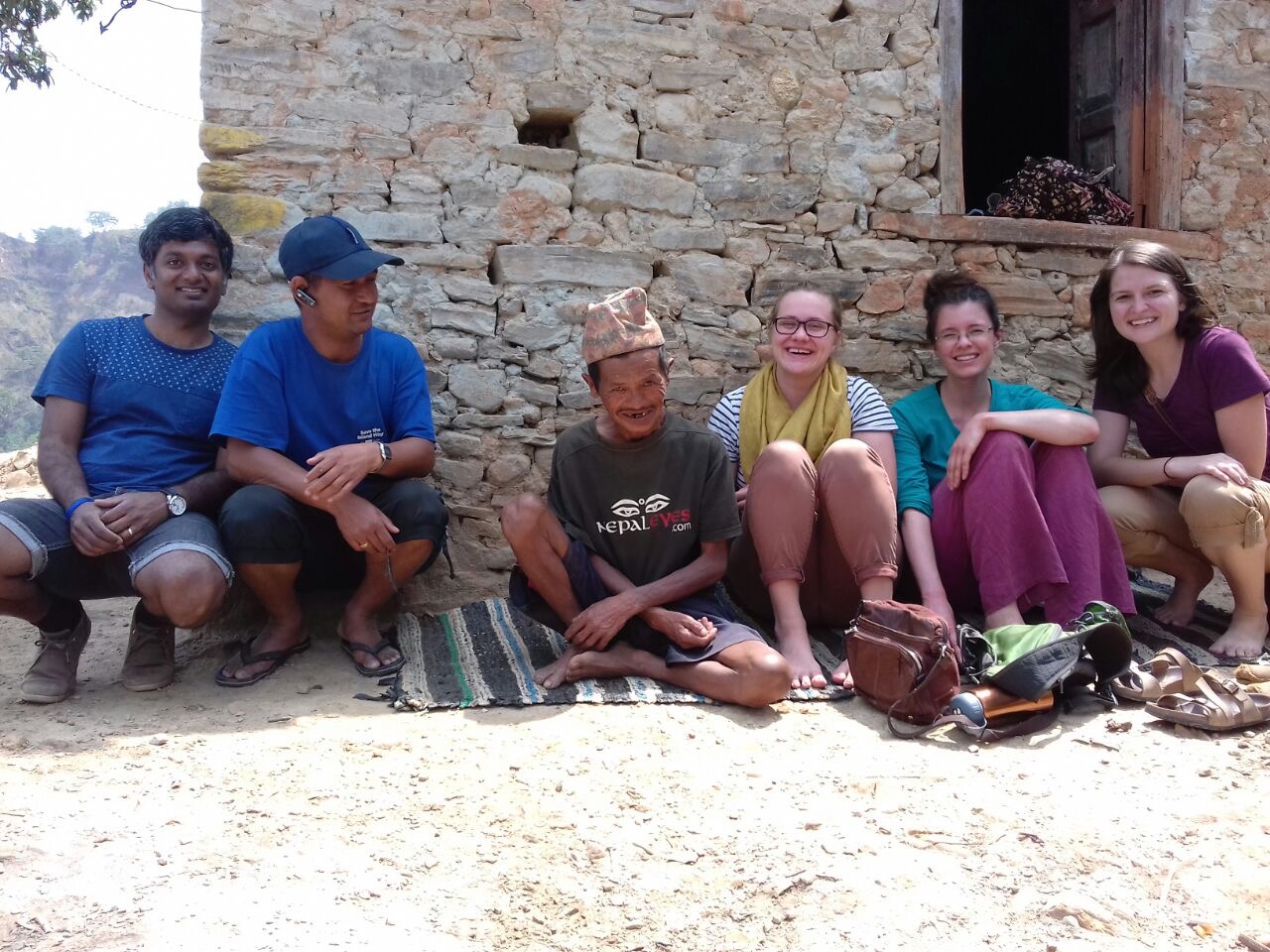 The second time we visited Lugandol, we prayed for a woman whose right eye was totally blind and had been for years. She had visited doctors, who had told her there was nothing they could do for her. As we prayed for her, she said she could see flickers of light and said that she now had confidence that she would be able to completely see. God's presence was strong upon this lady as we prayed for her. We also prayed for a woman who described feeling "thorns" all over her body. Pastor Ramesh felt that this was a result of all the spiritual practices going on in her home – the lady's husband is a witch doctor. We prayed for her and as we did, her husband joined us, so we asked him if we could pray for him too and he agreed! He said he had pain "from the gods" on his head and legs on occasion, so we laid hands on him and prayed. As we were doing so, he said the pain was moving from one leg to the other. We prayed that Jesus would reveal himself to the witch doctor as the one, true God. Afterward, the man looked brighter and more joyful. Lugandol was a special place for us indeed.
---
GATLANG

From Kathmandu, we drove around eight hours to Gatlang, a traditional mountain village in Rasuwa district which is near the Tibet border. The drive through the mountains is at once beautiful and treacherous, requiring some death-defying driving which Sonam (on staff at Kathmandu Vineyard, and our driver) handled expertly.
Our small, wooden guest house had quite a view of Lantang Lirung, the highest mountain in the Langtang Himal range. Even though Nepal is full of hills and mountains, seeing the Himalayas is always uniquely breathtaking. We met Pastor Prem and two other leaders from Gatlang Vineyard, enjoyed some tea together, and then turned in for the night after finding (and killing) around eight spiders in our rooms!
Post-Earthquake Devastation
The next morning Pastor Prem met us for breakfast at the guest house, after which he took us to visit various people from the Vineyard. We sat in their homes and prayed for them. The devastation and discouragement wrought by the earthquake was the most obvious here of all the places we visited. The rubble of stone houses is ubiquitous and though no one from the Vineyard here (or anywhere in the HRV for that matter) died during the earthquake, virtually everyone's home in Gatlang was destroyed. This includes Pastor Prem's home, his family's, and the youth leader's. In fact, all that remains of the old Vineyard building is one isolated, mint-green wall. The Vineyard is now meeting in a make-shift wood and tin structure. We felt for Pastor Prem and the congregation.
Lemba
Perhaps one of our most special interactions was with a man named Lemba. Lemba is unable to speak and has trouble seeing through one eye. His parents passed away and their graves are side by side on his property; he lives alone. He is part of the Gatlang Vineyard and Pastor Prem told us that he is one of their strongest believers, regularly praying for people for healing. He radiated the joy and light of Jesus. He was thrilled to welcome us into his home and seemed so pleased that we had visited. We prayed for him and afterwards, he excitedly showed us various fruit trees on his property. Pastor Prem told us that he wanted us to return to eat the fruit in season.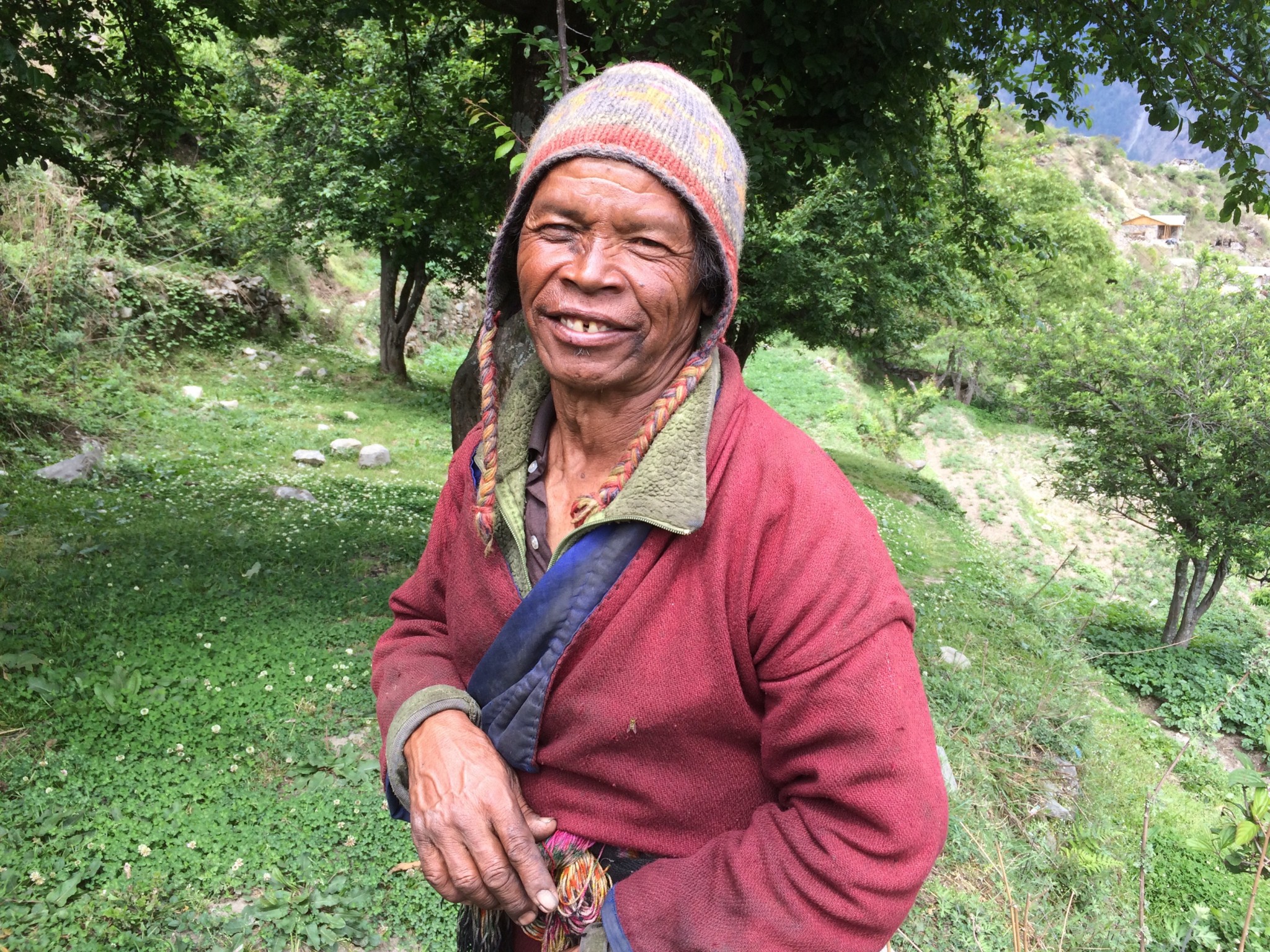 We finished our time in Gatlang at Pastor Prem's home, having tea, talking, and praying with the family.