April 25 marks 1 year since the first of the two big earthquakes rocked Nepal in 2015.  Since then, the nation has been picking up the pieces, gathering its strength, moving forward and healing.  The Vineyard Earthquake Response has been a small but significant part in the overall earthquake recovery.  Throughout each of our three phases – Relief, Recovery & Rebuilding – we've reached over 20,000 people!  We've seen God move in miraculous ways.  We've seen families housed.  We've seen neighbours experience the genuine love of Jesus through gifts ranging from a sack of rice to a new home.  We've mourned with those who are mourning and accompanied people into very heart of their heart of their trauma.  In the midst of the rubble, inflation, political unrest, blockades and persecution we've moved forward in the strength and surpassing peace of Jesus.  It's been difficult but also good.  Homes can be rebuilt.  Memories and fears take longer.  Thank you for journeying with us and praying for us!  God's Kingdom is advancing and we are so grateful to be part of it.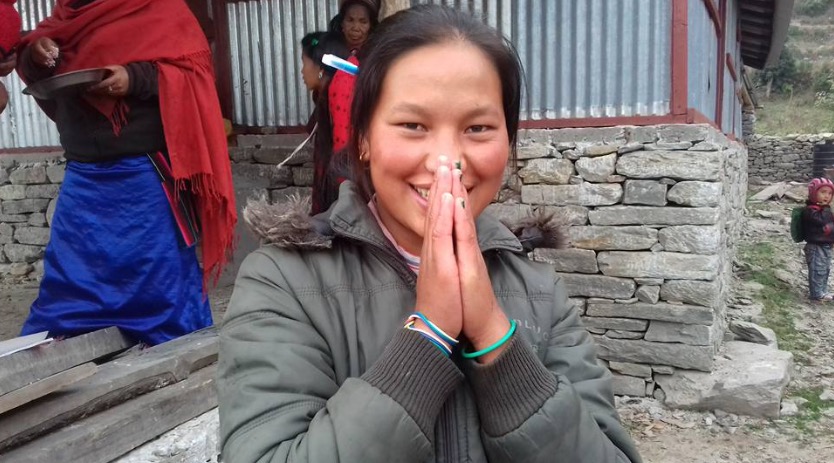 In this update:
A Greeting from Noel Isaacs and David Ruis
A Quick Snapshot of what's been accomplished in the past year
One Year After – a personal reflection by Nathan Rieger
Specific Items for Prayer
An Update on the Kathmandu Hub Project
The Other Side Project
Greeting from Noel & David:
Here Noel Isaacs and David Ruis give a 4 min update on the challenges and accomplishments of the past year.

A Quick Snapshot:
Here's an overview of what's been accomplished in the past year.  We are aiming to have the majority of the practical rebuilding efforts completed by the Fall of 2016 (excluding the Kathmandu Hub Project).
42 finished permanent homes constructed.  We've provided 100% material & construction.
141 subsidized homes.  We've provided parts of the materials or costs of rebuilding – adding to what the family already has.

111 subsidized 25 – 50% of total cost (based on need).
30 subsidized 5 – 25% of total cost (based on need).

Over 200 lots cleared of rubble in preparation for rebuilding.
6 church buildings constructed.
2 church buildings subsidized (providing building materials the congregation couldn't afford – non-Vineyard friend communities).
Started or upgraded 25 businesses for the urban poor in Kathmandu.  This is the creative response to the housing crisis in central Kathmandu where there are no affordable safe houses.  These businesses will increase the capacity of our people there to secure more affordable housing for themselves.
Bikka Land Purchased – The Bikka are a people group found in the high mountain village of Gatlang, Nepal. They are low caste and survive as iron smiths serving the village. They have no homes and have lived as squatters on government land for generations. The earthquake destroyed their homes and consequently totally displaced them.  For years the government had been unsuccessful in removing them from the land.  The earthquake accomplished in a moment what officials had not been able to do for generations.  This not only left the Bikka people homeless, but without any space to live, and literally no place to go.  They lost everything.  Another implication of them being low caste meant they had no official ID's and were unable to own any property or rent anywhere. In the Nepali world they are known as "the landless people", and now, the quake had seemed to solidify this identity forever.  Well, under the direction and vision of Noel Isaacs, we were able to purchase land and give it to the Bikka.  The property was subdivided into lots, providing living potential for many.  They shifted from being a landless tribe, to people with land.  The Bikka people now own this land and will no longer face the overwhelming sense of displacement ever again.  11 of these families are part of our Dhakbari community in Gatlang.
Kids Helping Kids – Planned children's centre in Gatlang (funded from Canadian Vineyard kids!).
Building a children's park for traumatized and displaced children.
Recently, distributed over 200 sleeping bags.  
Throughout the past year over 7,000 rice bags delivered.  Tarps, tents, pots, pans and various and sundries numbering in the 100's.
Health and hygiene packets have been designed, packaged and delivered all over the region. Special attention has been given to packages designed specifically for women.  A couple of medical outreaches including minor operations and treatment of illness'.
5 km of road built to the epicentre village where we have a church.
Trauma counselling has been a huge part of the pastoral work across the region.  Our team has been nothing short of amazing in the amount of care and healing they have brought to body, soul, mind and spirit.  The toll on our care givers has been great, but the fruit is overwhelming.
Over 35% of all funds used to date have gone to families and people "outside" of our church communities – to our "neighbours".
Over 20,000 people impacted through the HRV efforts!
Click on the pics to see full size & captions
One Year After – A personal reflection by Nathan Rieger
Nate is on the pastoral team at Winnipeg Centre Vineyard and was in Kathmandu when the first earthquake hit.  He was reaching for the microphone when the ground began to shake…
When the solid earth crumpled, the waves of chaos following it will always be written in my body's memory:
The windows begin, they rattle, or rattle and shatter. The dogs and crows howl and shriek. Then, the humans, just a shade slower than the animals, cry out: men shouting for their families, mothers calling for their children, and the rushing of a million people into the streets of Kathmandu. In my memory there is also near-instant sound of a crowd calling out to God, prabhu Jesu! (Lord Jesus!)
And the earth groans, it grabs you and shakes you like a monstrous, drunken thing.  You land on your knees or your face, or maybe manage to crouch. Maybe a crack opens up. It can open anywhere, far above you in the mortar (it's just mud) of a wall that peels off and lands like a missile beside you, or in the ground itself. It can open a space between two walls, as they tilt away from each other.  And always, it opens a crack in your heart, and fills with a mixture of fear and courage, alertness to help and self-preservation instinct.  And the irresistible urge to run.
Though I only experienced this for a week, maybe a hundred times, beginning on this day one year ago, most of those cracks have still not healed. Neither in the buildings, the walls, or the hearts. The cracks in one's faith, if the earthquake shook that too, also are still healing in some.
Most unhealable are the gaps left in the absence of a family member, crushed under some door, or brickfall, or mudfall. Not that grieving hasn't begun to stitch our hearts together, but where a family of five is a family of four now, one year does not begin to change the definition of how many should be here. It's still five, and the other one is …somewhere else.
Its. So. Slow.
Yes, all who contributed to the massive outpouring of help should be proud of the quickness of the response in the Vineyard: after our first post online, there was a steady stream of tarps, bags of rice, and Hello Kitty blankets to the needy. Between relief, and recovery and rebuilding efforts, the relief was by all measurements the speediest, and needfully, thankfully slow. Pastor Raju, former village bully in his 20s, drove through cracked roads, a mudslide, and monsoon torrents to arrive in his own village Nareshawr at midnight, where a terrified village had all gathered in hopes someone might come. In the rain, with a bleeding face from the encounter with the mudslide, Raju set his village under blue tarps for the night, while the aftershocks rumbled and roared on right there at the epicentre. We had been there only the day before the earthquake, right at that violent centre, and he was the first to return.
Politics and and short-sighted officials stepped in, and should have helped but instead hugely hindered.  When the constitution, wrangled about for 7 years, was hastily ratified for the sake of recovery, it appeared to marginalize the people of the southern plains, and India promptly blocked all petrol trucks from entering landlocked Nepal.  So at the time when diesel was most needed to get supplies to homeless people – there was none. One of our brothers patiently waited for three days and nights at a lineup kilometers long at a garage, to buy several litres of petrol, at many times the normal price.  The work of rebuilding was stalled and resumed in the new year.
Despite the delays, there are hundreds of families that have now rebuilt houses with our help.  Shiny tin houses, earthquake (but alas not yet wind) -proof, have grown up all over the land and blue tarps have given way to blue-painted tin, seen from Google Earth. These new dwellings came up with a mix of prayer and bricks, concrete and cooperation, and of all the moneys sent through the Vineyard, at least a third was given to neighbours of the recipients.  The generosity was astounding – though people had barely enough for themselves, in typical Nepali hospitality they rebuilt their neighbours houses with their own.  At the epicentre, a place where Hindus and Christians had had tension previously, now there is a new road, the Hindu-Christian road, where villagers reached across divides and built a way to bring reconstruction supplies.  Evidence of new life, not just new houses, abounds.
May the cracks in the ground be filled with earth.  May the crack in the walls be repaired.  And may the cracks in our hearts be filled again with peace.
Pray:
Prayer has been paramount in the Relief, Recovery and Rebuilding efforts.  Our team is dependent on God's provision practically and internally.  Here are some critical ways you can partner with us in prayer:
Pray for healing.  The cracks in walls can be fixed (or torn down), but the cracks in hearts, only God can heal.
Pray for wisdom to manage the resources well.  In the big scheme, the needs are overwhelming.  In the bigger scheme, God is in control.  We must effectively follow his leading and not go a step further.
Pray for people to come into the Kingdom and encounter Jesus' love as a result of our efforts.  While responding practically, we also want to disciple people into the Kingdom!
Our church in Nareshawr, Gorkha, near the epicentre of the first quake, is hosting a regional conference in October!  Imagine that!  Pray for God's blessing on this time – even though its 6 months away we have a sense that God will do some amazing things there.
Pray for the pastors and leaders of the various churches.  Pray for the HRV leadership team and for Sherab & Lazwani Bhutia (aka. Noel & Dona Isaacs) as they lead.
Supplies and gas (diesel for driving and gas for cooking) are still in short supply.  While not an uncommon hardship, the situation is accentuated in recovery and rebuild mode.  This is especially true in the remote villages.
For partners for the Kathmandu Hub Project (more below).
Kathmandu Hub Project:
The Earthquake Management team have agreed to put a portion of the Earthquake Fund toward the demolition of the two buildings on the Kathmandu property which were severely damaged in the earthquakes.  The 3 story residence and the main sanctuary both need to come down due to structural deficiencies.  The residence remains evacuated.  We continue to use the sanctuary.
Rebuilding these two structures is a major undertaking and will require large donations beyond the scope of the Earthquake Disaster fund.  Plans are currently underway to establish a new 35-unit guesthouse which will generate income for the HRV and an accompanying sanctuary / kitchen complex.  This is a large project and will require approximately 1.1 million USD to complete.  If you are interested in contributing to this project, please contact Winnipeg Centre Vineyard.  We will have more details on this project coming soon.
Other Side CD Project: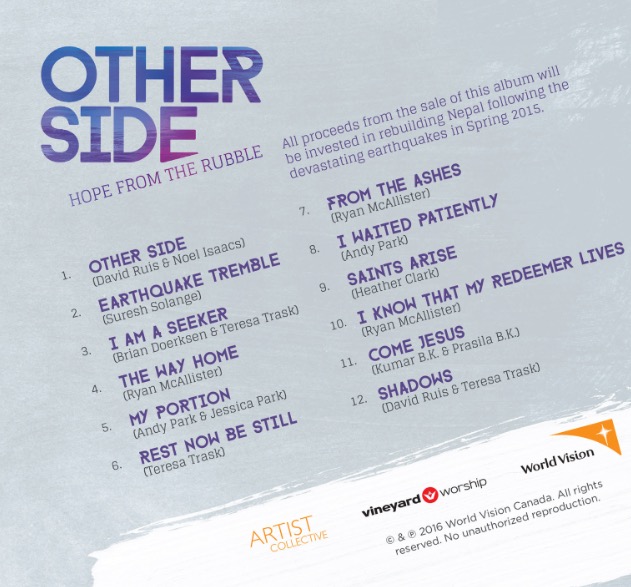 World Vision was a leader in delivering aid relief in the days after the magnitude 7.8 earthquake and a devastating second 7.3 earthquake hit the country. This album is a joint project between World Vision Canada and Vineyard Worship Canada and it celebrates the resiliency of the Nepalese people and is a reminder that rebuilding efforts are on going.  It features Western and Nepali musicians and worship leaders.  It beautifully captures the sounds and heart of Nepal.
"Much of this album was recorded in the Kathmandu Vineyard courtyard surrounded by school kids, barking dogs & running mopeds… definitely an interesting recording atmosphere. When people hear the songs, I hope they are reminded that our faith unites us with the Nepali people. I'm honoured to be part of a project that's benefitting families and communities in this beautiful country." – Ryan McAllister, musician.
>>Purchase the CD here
You can also find it on iTunes and Google Play.  The net proceeds are split 50-50 between World Vision Canada, and the Vineyard Earthquake Fund.